Heartstrings: Songs of Love Won & Lost by Counterpoint Vocal Ensemble — Saturday, July 19, 8: 00 p.m.
« Back to Events
This event has passed.
Event:

Heartstrings: Songs of Love Won & Lost by Counterpoint Vocal Ensemble — Saturday, July 19, 8: 00 p.m.

Date:

July 19, 2014 8:00 pm

Category:

Updated:

May 6, 2014
Heartstrings:  Songs of Love Won & Lost by Counterpoint Vocal Ensemble
Saturday, July 19, 8: 00 p.m.
Tickets: $20 in advance; $25 at door. (SPPAC Members save 10-20%. Become a Member Today!)

Counterpoint, Vermont's professional vocal ensemble, will be joined by a quintet of local professional string players, for a concert entitled "Heartstrings: Songs of Love Lost and Won," under the direction of Artistic Director Nathaniel G. Lew.
"Music lovers will adore this repertory," said Lew, "Not only are we adding strings to Brahms's famous Love-Song Waltzes, which is a rare treat, but we have works by Puccini and Beethoven, and a special Vermont accent to start the show."
All the works lament lost love or celebrate new-found passion, and each is quintessentially expressive in a different way. The program includes sets of songs by the two most admired American choral composers of our time: Morten Lauridsen's characteristically lush Chansons des Roses and Eric Whitacre's romantic Five Hebrew Love Songs. The musicians also perform a deeply moving but little-known short work by Beethoven, the Elegiac Song. In keeping with Counterpoint's mission to perform works by local composers, the concert opens with verses from Shakespeare's Twelfth Night set to music by Brookfield-based Erik Nielsen. The strings on their own play the passionate elegy Chrysanthemums by Giacomo Puccini. The program closes with Brahms's Liebeslieder Waltzes, one of the most beloved choral works of all time, in a rarely heard arrangement with string accompaniment.
Founded by legendary choral director and arranger Robert De Cormier in 2000, and based in Montpelier, Counterpoint is dedicated performing choral chamber music and engaging with student musicians to enhance the cultural life of communities in Vermont and beyond. Praised for their "clarity, skill" and "sophisticated musical expressiveness," the ensemble presents concerts throughout New England and the surrounding region, and has toured the Midwest. The group has recorded seven CDs with Albany Records and has released three further CDs independently. For more information please visit http://counterpointchorus.org/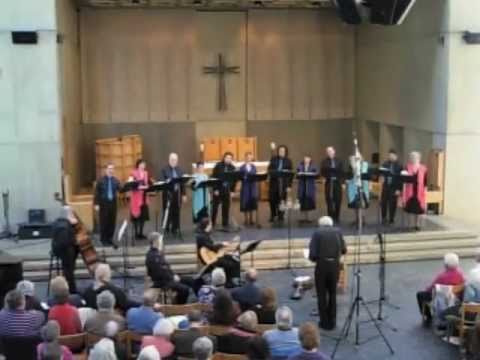 Repertoire
"O Mistress Mine" from Three Shakespeare Songs (2005) — Erik Nielsen (b. 1950)

Elegischer Gesang (Elegiac Song), op. 118 (1814) — Ludwig van Beethoven (1770-1827)

Five Hebrew Love Songs (1996/2001) — Eric Whitacre (b. 1970)
Temuna
Kala Kalla
Larov
Eyze Sheleg!
Rakut
Les Chansons des Roses (The Rose Songs) (1993) — Morten Lauridsen (b. 1943)
En une seule fleur
Contre qui, rose
De ton rêve trop plein
La rose complete
Dirait-on
Intermission
Cristantemi (Chrysanthemums) (1890) — Giacomo Puccini (1858-1924)

Liebeslieder Walzer (Lovesong Waltzes), op. 52 (1869) — Johannes Brahms (1833-1897)
Counterpoint Vocal Ensemble
Nathaniel G. Lew, Artistic Director
Robert De Cormier, Founder and Artistic Director Emeritus
Charlie Briggs, tenor
Colleen Flynn Campbell, soprano
Neil Cerutti, tenor
Marjorie Drysdale , soprano Stephen Falbel, bass
Zebulun McLellan, baritone
Allison D. Mills, soprano
Bethany L. Plissey, soprano
Kevin Quigley, baritone
Linda Radtke, alto
Cameron Steinmetz, tenor
Lindsey Warren, mezzo-soprano
Musicians
Sofia Hirsch & Pam Reit, violin
Paul Reynolds, viola
Suzanne Polk, cello
Evan Premo, bass
Peak VTartists Series sponsored by: Farrell Distributing.